I am SO excited to be writing the first post about our WEDDING!
After getting engaged in August (engagement story blog post coming soon!), I had no interest in actually beginning the planning process for our wedding. It all seemed too overwhelming, too expensive, and too stressful for my brain to process. Everyone told me to just pause and enjoy the first few months of being engaged, without worrying about jumping right into planning. But I still felt guilty about not wanting to plan my wedding and shutting down any conversations about it when the topic came up.
But lo & behold, all the people I spoke to were right, and after a few months of feeling overwhelmed (and a couple episodes of Say Yes to the Dress) I started feeling a spark of excitement about planning our special day.
So here I am… just two months into planning a wedding that is over 500 days away, bringing you the first of our wedding updates. I hope you enjoy coming along on this process with me as much as I am enjoying planning it all!
What We've Done So Far:
Peter and I always knew that we wanted a long engagement, for a few reasons.
First: it gives us more time to save money so we can afford to splurge on vendors/items that are a priority to us. Second: because it allows us enough time (in theory) to be able to do everything the way we WANT to do it. With the flexibility in our date and timeline, we are able to meet with more vendors, take more time to really think about the finer details, and overall, not feel rushed in planning our wedding.
That being said, since we were aiming for a fall 2023 wedding, we knew that there were only a few things that were a priority for us to book early. I want to also emphasize that there is no *official* timeline that you are required to follow when booking your wedding. We've essentially been booking on our own schedule but I've also been using The Knot app checklist as a sort of benchmark (HIGHLY RECOMMEND, it's super satisfying to check things off!).
So without any further ado, here's what we've done so far:
Chose a venue. I feel really lucky to say that it feels like our perfect venue fell into our lap at just the right time. The day I found our actual venue I had just heard back from a different venue (that was our previous #1 choice and only serious contender at the time) who informed me that their prices had increased by 50% since the last time I had spoken with them. With our only promising venue now completely out of our price range, I was heartbroken and ready to close the wedding planning binder again, thinking "Well, I tried, I'll try again in a few months." Within a couple of hours though, I stumbled across a restored French mansion located right between Buffalo and Rochester that checked every box. We met with the owner and saw the price (which was an even BETTER surprise) and knew that this was our venue. We'll be having our ceremony and reception at the same venue and could not be happier with our choice.
Picked a date. With booking our venue came choosing our date! Initially, we really wanted to pick September 16th because our dating anniversary is September 15th and it would've been nice to keep those dates close together. However, because another couple beat us to it (ugh!) we went with another date that we think will be just as special moving forward. We will still be getting married in September and can't wait to share more details as we get closer!
Booked our photographer and videographer. After venue, this was our next top priority. Photos and video are how you capture and remember your day for years to come and so it was not an item we were willing to skimp on. It was also important to me to have both our photographer and videographer come from the same company/business. I didn't want to worry about logistics and coordinating between two vendors, however, I was really struggling to find the quality I wanted with that requirement. Then came our DREAM duo and ultimately our choice: a photographer MARRIED to a videographer and they both create beautiful work!
Booked our bar. This one was luckily super easy for us as our bar company works directly within our venue! We opted for an open bar where we will supply and pay for the alcohol (but will get to return anything we don't use 🙏) and even added a speakeasy afterparty option which we are SO pumped about!
Selected our bridal party. While they don't know it yet, we've already picked who will be standing next to us on our big day! More details to come on the bridesmaid proposals (which I am so excited about) and possibly groomsmen proposals if I can convince Peter to do something bigger than just a text message 😂
Created a rough guest list. Again, we have sooo much time, but when it comes to trying to get accurate estimates for things like catering, the bar, etc., we needed to have a rough number of how many people we would have at our wedding. I created a Google Sheets spreadsheet and then imported that into Zola's Guest List Planner (which is a LIFE-SAVER) where we will eventually store everyone's contact information and RSVP info.
Ordered my wedding fragrance. This was something that was also at the top of my list BECAUSE I really want to wear my wedding fragrance not only on our wedding day, but also at major wedding-related events (ex: wedding dress shopping, bridal shower, bachelorette, etc.) and eventually on our anniversaries. I picked this fragrance from Charlotte Tilbury and I am… obsessed. I didn't want to invest in something I'd literally only wear for one day and now this way I'll always associate the scent with the wedding!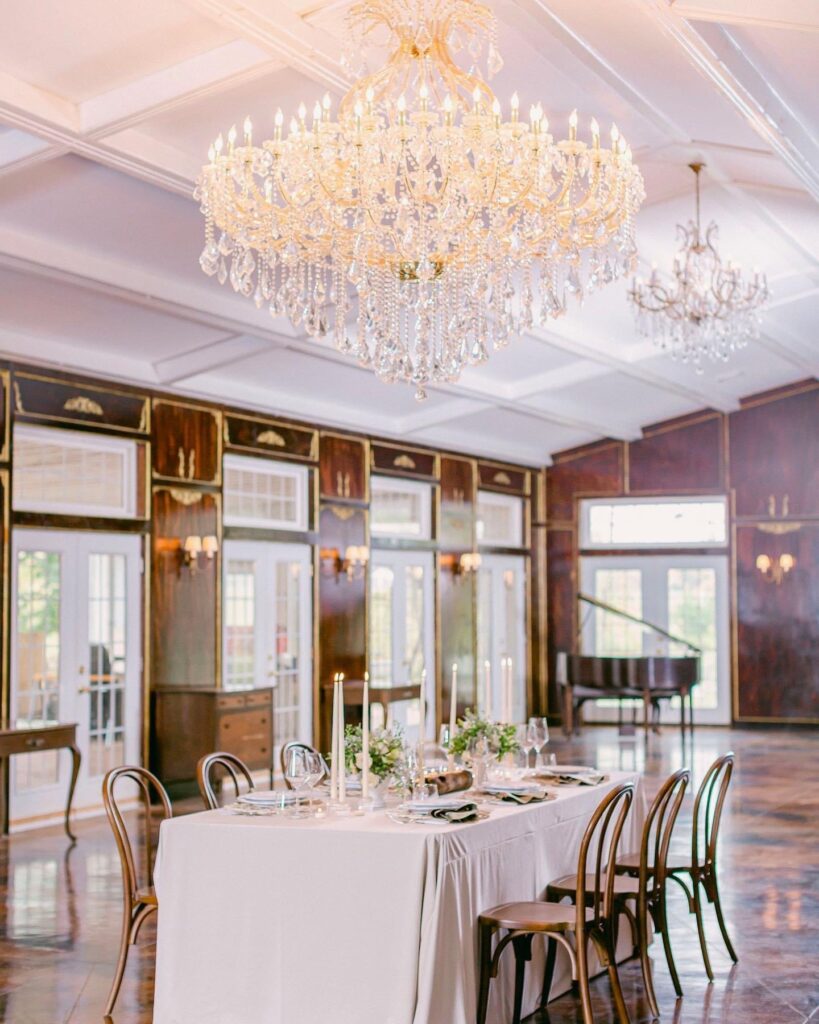 What's Next:
Now that we've gotten our major vendors out of the way, the last big ticket item will be our catering for the night. It's important for me to be able to do a tasting with whoever we pick before we book, so in reality, it means we need to plan a trip to Western New York ASAP!
After that, we will book our engagement shoot with our photographer (included as part of our wedding package), plan stationary for our save-the-dates and start researching DJ's and music! I am ALWAYS open to recommendations, so please feel free to slide in my DMs with any suggestions.
The next update I will share will actually be my DRESS SHOPPING because my mom and sisters will be coming to the city at the end of February to head to a few bridal boutiques! (as well as my dad and brother, although they won't be coming shopping with us). While I've decided I'm going to keep The Dress a secret from everyone except my mom and sisters until the day of, I will absolutely be showing you dresses I tried on but did NOT select.
Last but not least, I am SO grateful that I get to go through this and share it all with all of you! I am so appreciative of this platform and it seems surreal that some of you have been following me since 2017, before Peter and I had even met!
To the official kickoff of our wedding series and until the next update…
Yours Truly,
Erin