I can't believe how long it's taken me to write this blog post! To be honest, I wasn't exactly sure how many people would even be interested in hearing about my engagement ring and our purchase process, but I'm so excited to share allll the details with you guys today!
The First Conversation
Peter and I had always been super open about our plans for our engagement. From the timeline (we wanted to be engaged no later than the end of 2021!) to the fact that I wanted to be there when we purchased the ring, we were always on the same page and Peter completely respected the fact that I wanted to take a more active role in the engagement ring design.
My personal thought process was (and still is), if I'm going to be wearing the ring for the rest of my life – I want to be able to design it and customize it myself! However, I completely recognize and respect that this is NOT the same process that every engaged couple takes – you should go about your personal engagement decisions in whatever way feels most comfortable for you and your partner!
So after our initial conversation about the ring itself, it was time to start searching for a jeweler!
The Jeweler
Some of you I'm sure already know where my ring is from (I tag them all the time in posts of my ring!). But when deciding what jeweler to go through, I had two main requirements:
They needed to have flexible customization options
We needed to be able to go to a showroom in person
Customization was huge because I really wanted to know that the ring we got would be completely personal and authentic to my personal style and vision. As for a physical showroom, I am a total hands-on and visual person. I didn't want to get a ring completely online, having never tried on different styles or spoken to an expert face-to-face, so being able to go to a jeweler in person was another top priority.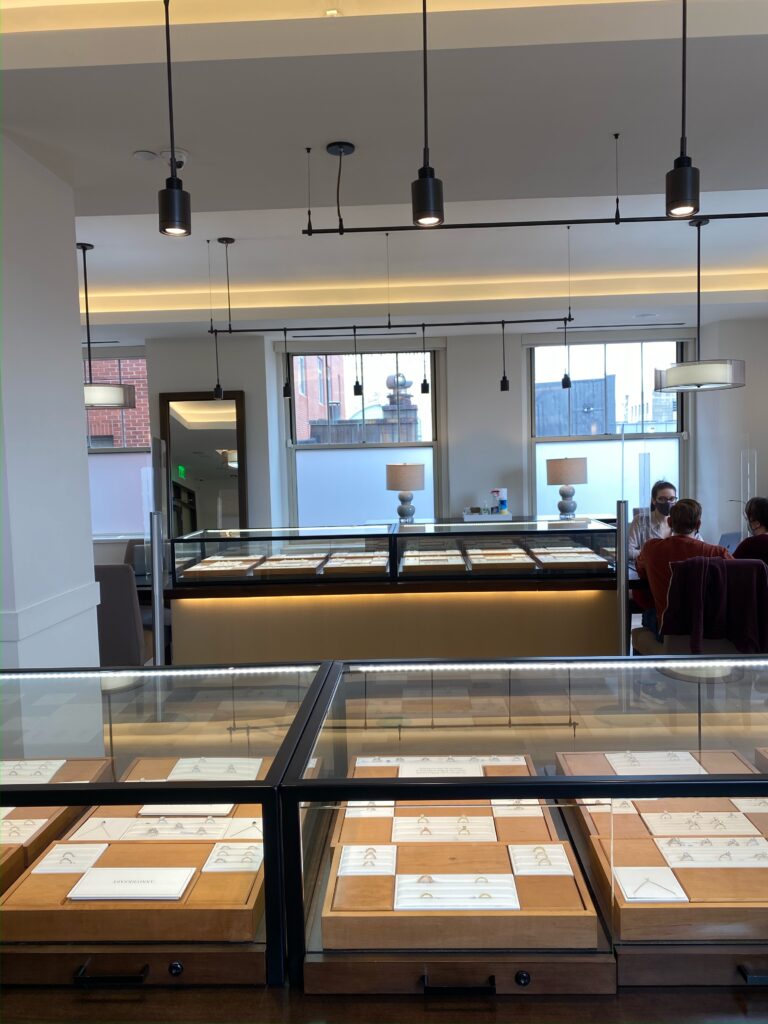 Given those two requirements, and because we weren't trying to spend a house down payment on a ring, we ended up deciding to go with Brilliant Earth. I had heard and seen so many good things about them, they had flexible budget options, customization was practically unlimited, and they had a physical showroom in Boston (which also meant we got a little weekend trip out of it 😉). They've since opened a showroom in NYC – which means I will likely be making a trip back there for my wedding band 🙂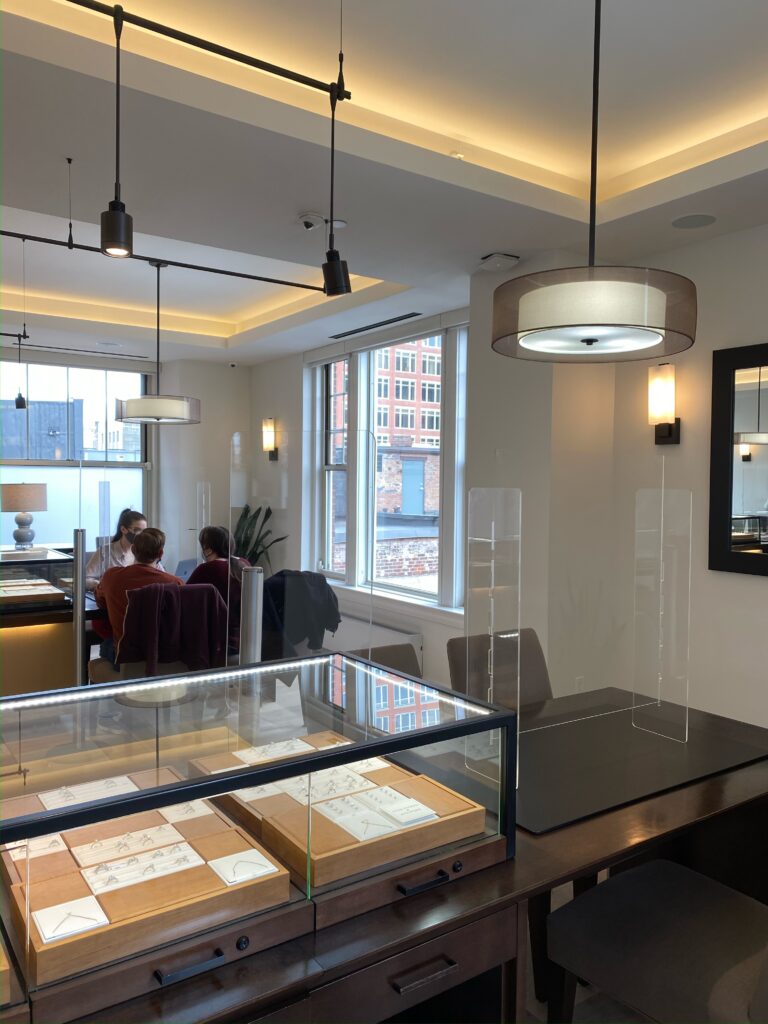 The Appointment
We booked an appointment for a Saturday in May in the morning. When we first got to the appointment, we checked in at the concierge and then waited in the separate waiting room for about 10 minutes before we were brought into the actual showroom.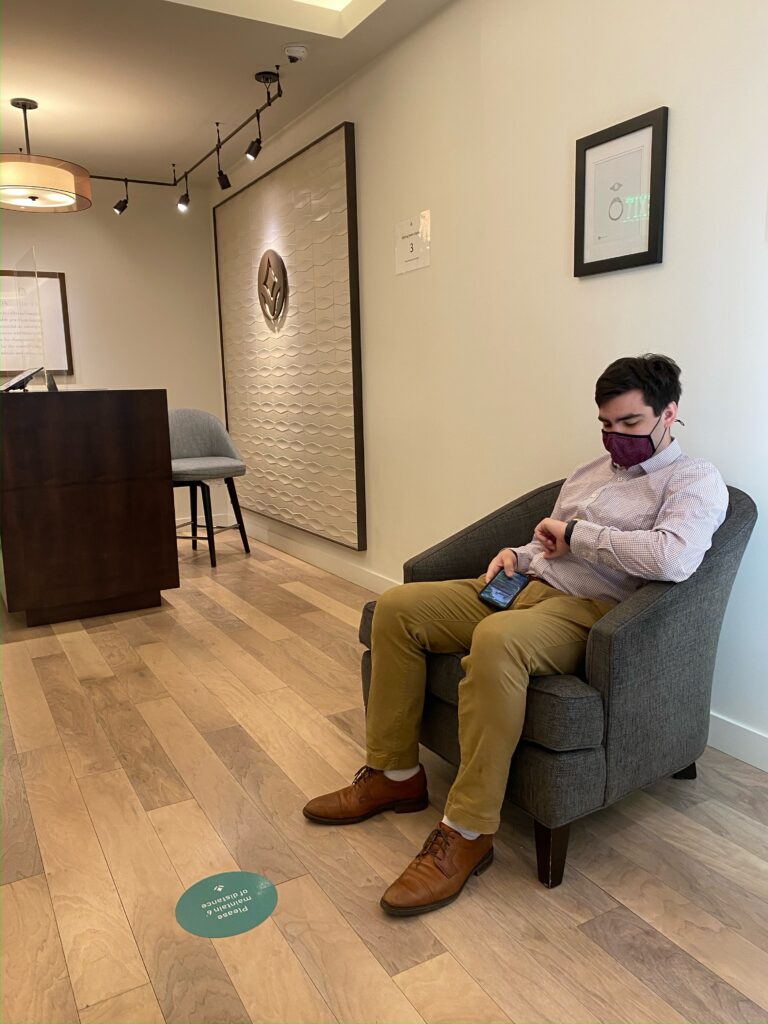 We were paired with a consultant and seated at a small, private table in the showroom. Our appointment began by collecting some generic information from us, then our consultant asked us what our vision was for the ring. I said something along the lines of "vintage setting, not silver, pink stone, oval" and he began by pulling four different stones of varying sizes for us to look at.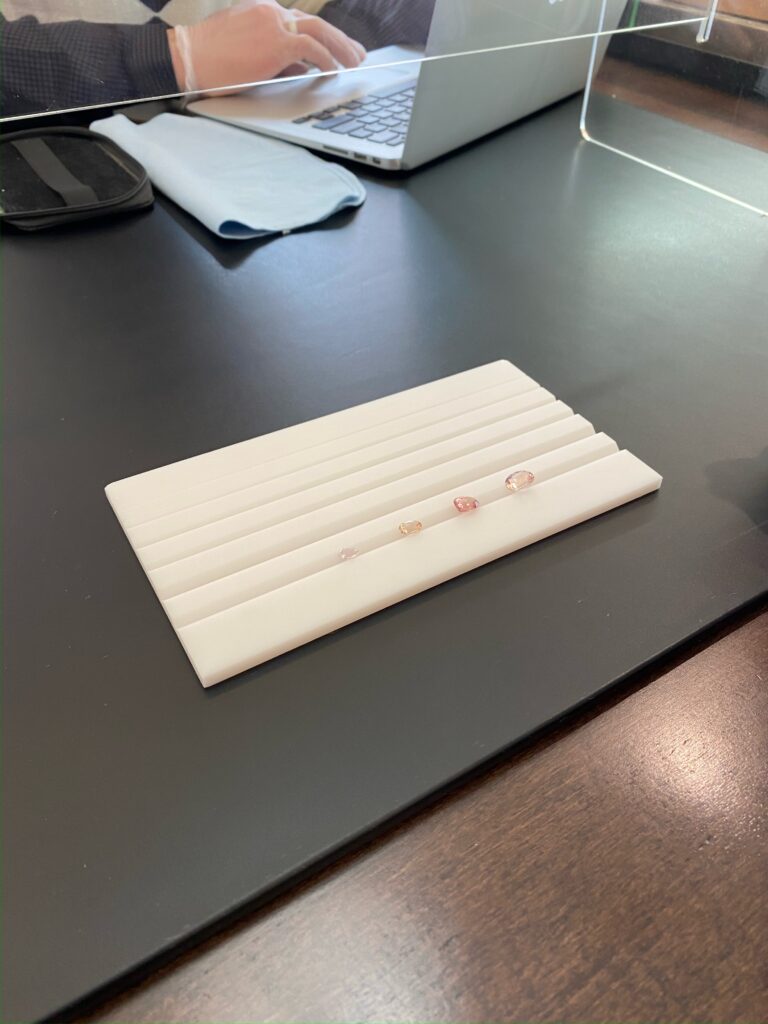 I can't remember which was which now, but the stones were a mix of peach-colored Morganite and Garnet. They ranged from smallest to largest and our consultant gave us a set of jewel tweezers (probably not the real word for the tool we used, lol) to pick them up and hold them over my finger to see which size looked best. We ended up deciding the color and size of the third jewel (a Garnet stone) was the perfect fit. From there, we could move onto discussing the setting!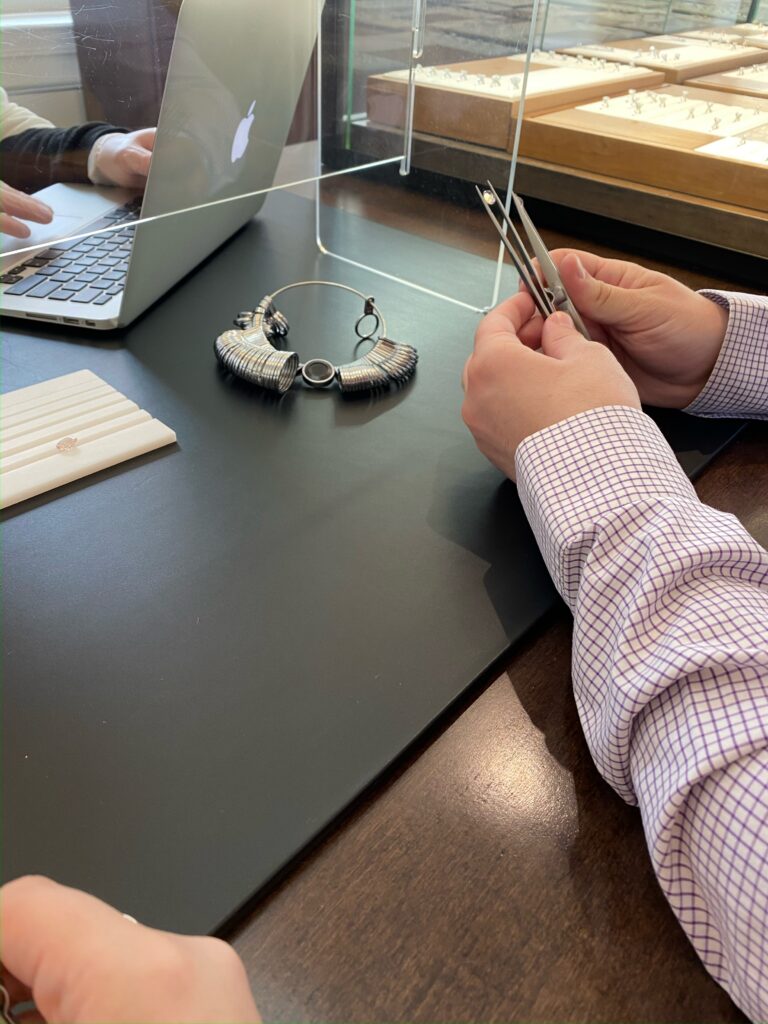 Our consultant then brought us over to one of the large cases of rings. He told us to just look at the settings and point out a few that I was interested in. He also suggested a few that he thought met my description, and we ended up pulling three settings to try on.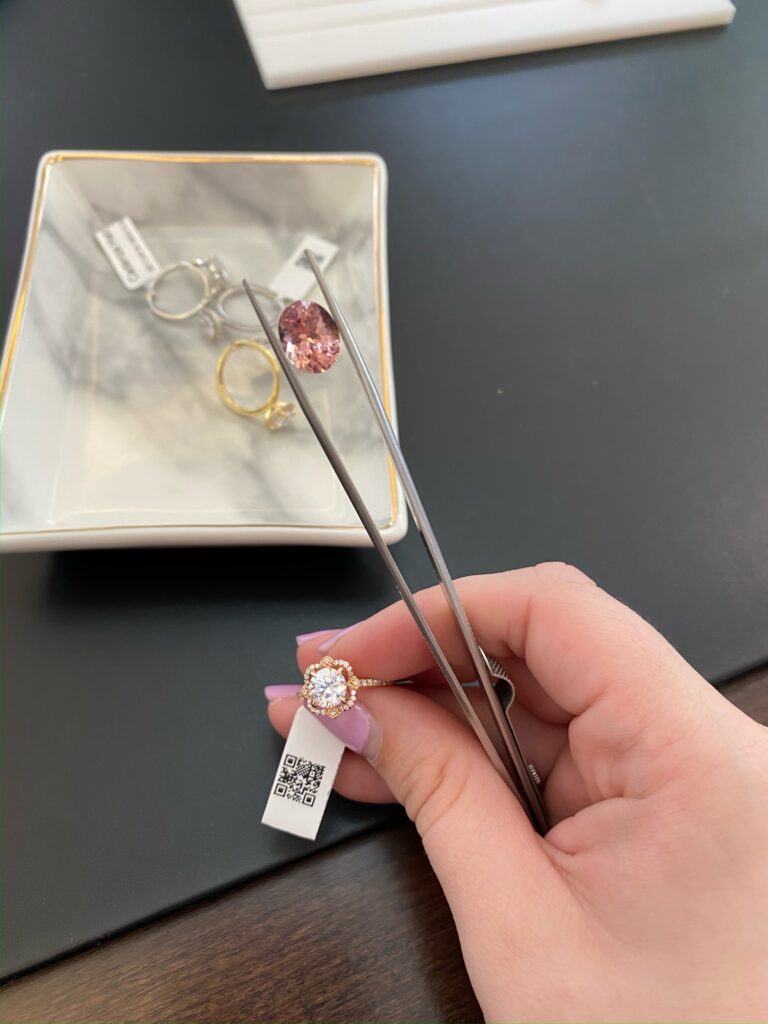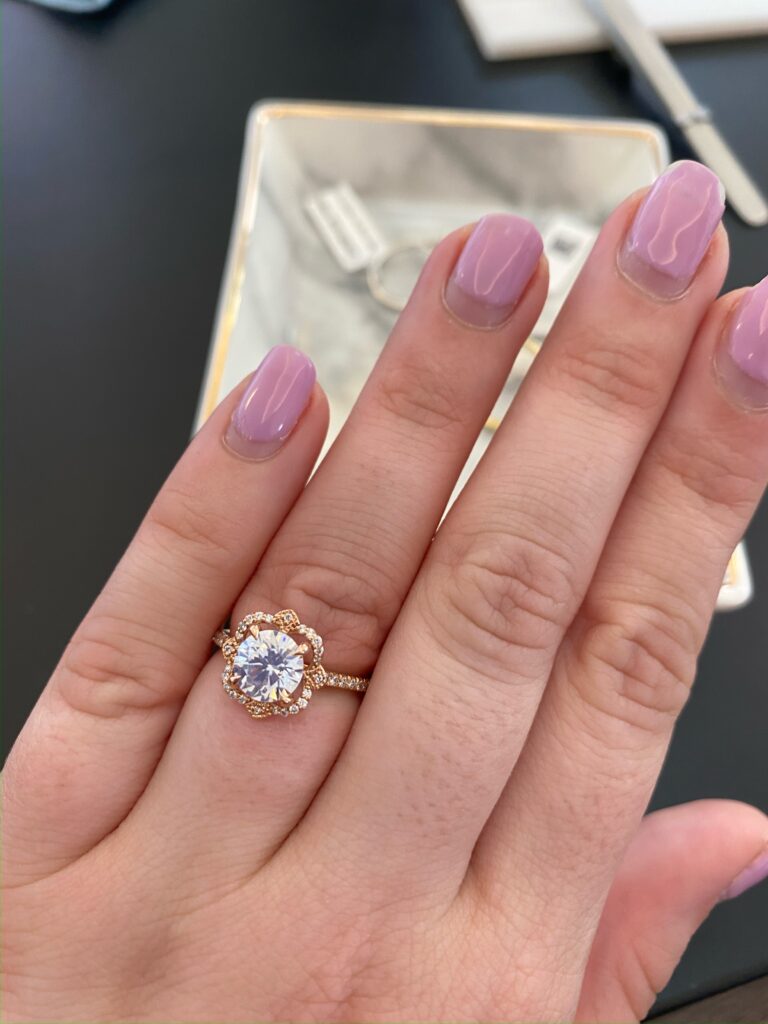 Similar to a wedding dress fitting, all of the sample settings were a "sample" ring size (which I think was like a size 5) so keep in mind that if your ring size is bigger than a 5, it probably won't go much further than your knuckle! That part did make it a teeny bit challenging for me to visualize, but it ended up working out completely fine. I held the stone we picked in one hand and the setting I liked most in the other, trying to visualize how they would look together. Something that was SUPER helpful was Brilliant Earth's digital rendering tool. Since I wanted an oval stone but the setting we were looking at was for a round stone, the consultant put the two together digitally to show us how they would look together.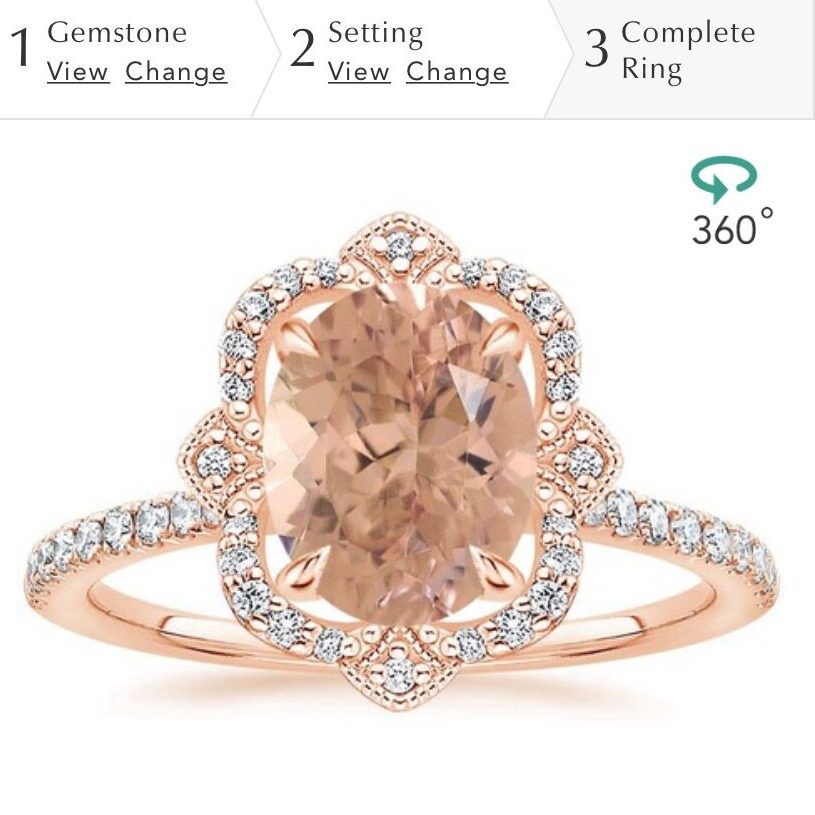 After the digital rendering, I was sold! Peter loved it too and our consultant confirmed my ring size. We then placed the order for the ring right there (we were required to pay in full at that time, which we were prepared for, but just something to keep in mind!) and our consultant said to expect my ring to come in around 4 weeks. Something I HIGHLY recommend is planning something fun to do after! Even if we hadn't bought a ring at that appointment, ring shopping is a big deal and a fun experience – so go celebrate! We ended up heading to brunch at an amazing restaurant in Boston and then going on a sunset cruise with champagne in the evening.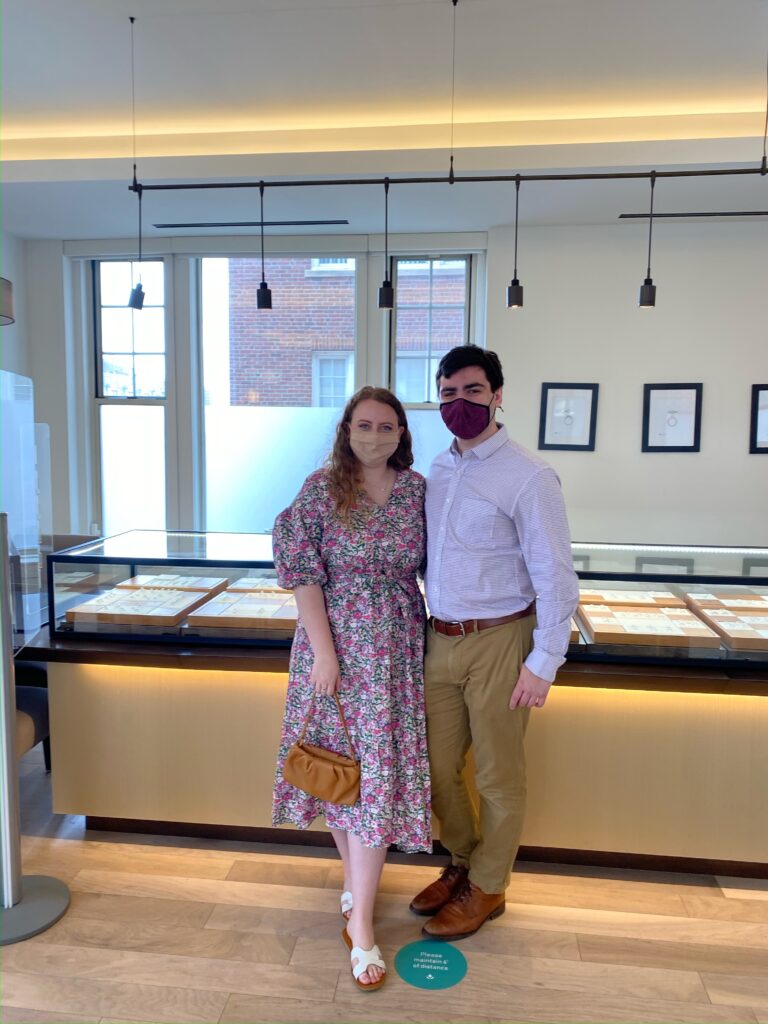 The Aftermath
Sure enough, four weeks later it did come, and I tried it on to make sure it fit properly (Brilliant Earth only has a 60 day return policy, so we tried it on ASAP to make sure everything was correct). Then came the most excruciating part… knowing it was in the apartment and I had to wait to wear it 😫
But Peter planned the perfect proposal and I've had it on my finger ever since! I don't regret anything about our experience or my ring, it is wholeheartedly me and everything I wanted in an engagement ring.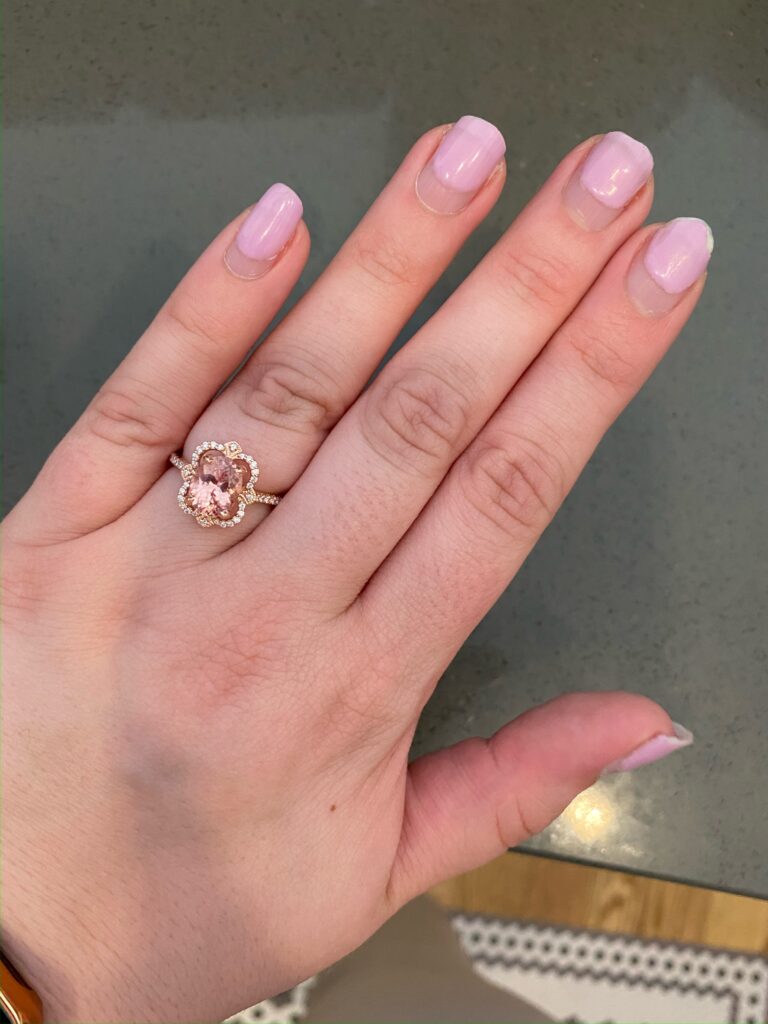 I hope this blog post helped to provide some information on our engagement ring shopping and design process! Leave me a comment with any questions, thoughts, or your engagement ring stories 🙂
Yours Truly,
Erin