To remember a world without Amazon Prime . . . I certainly don't! Since quarantine has hit, I have had lots more time to watch HGTV, browse TikTok, and scroll Instagram. As a result, the items that I suddenly "needed to buy" from Amazon skyrocketed. I'm not necessarily complaining, because the items that I'm going to share in this post are some of the best purchases I've made on Amazon, but my wallet might beg to differ.
I've listed & linked my seven most recent Amazon purchases in this post for you, including prices and what I've been loving about them. If you end up purchasing anything listed here, be sure to tag me on Instagram or leave a comment on this post–I love hearing what you guys think!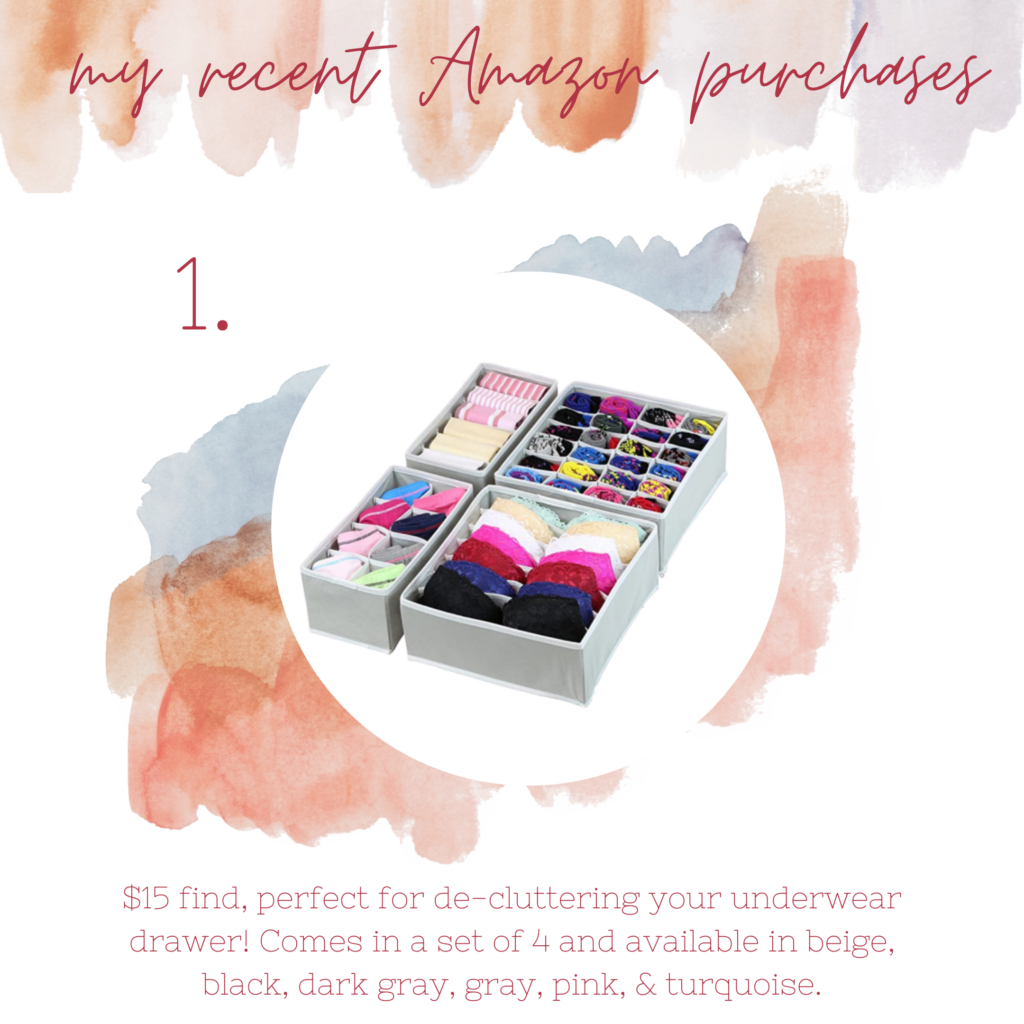 Living in NYC, storage is TIGHT so Peter and I ended up having to share an underwear drawer. Between all of my things and his, our drawer was so full and disorganized that we couldn't even open it anymore. See image below of the before & after: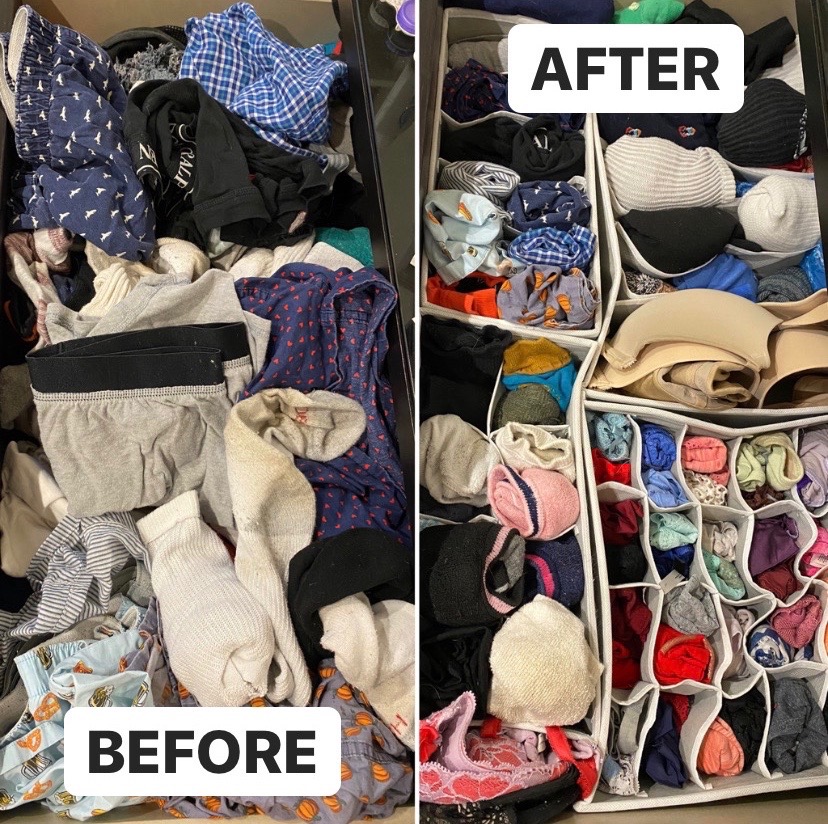 This organizer comes in 4 pieces with different sized slots for whatever you are looking to store. It's only $15 and comes in six different colors, such a steal for your organization needs!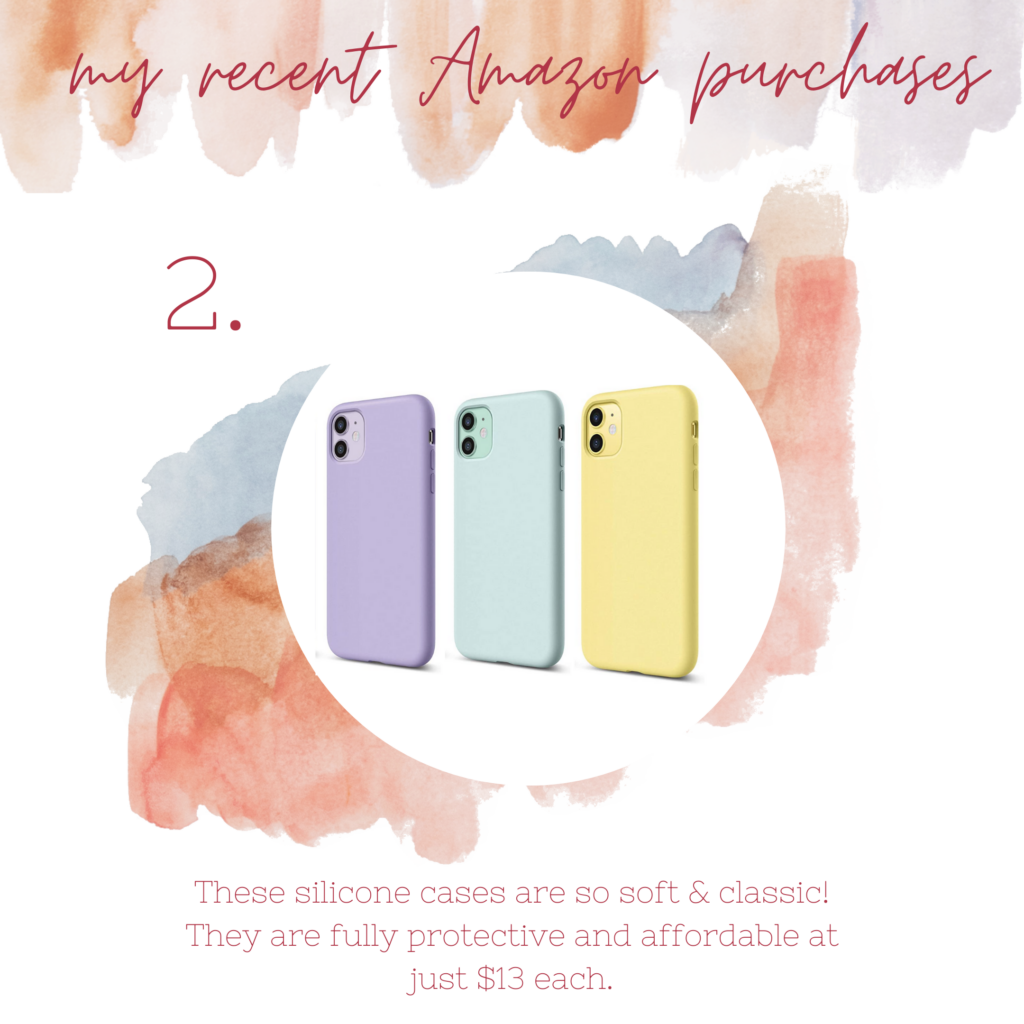 I have been seeing these silicone-style matte cases all over my Instagram & Pinterest, so I decided it was finally time to get some for myself! I ordered them in three colors, Lavender, Mint Green, and Yellow, but they have 11 color choices total, so be sure to take a look.
The best part about these cases is that they are soooo soft and are comfortable to hold–which is good because I'm holding my phone so often! They also have a protective microfiber lining and bumper on the bottom to protect your phone from any scratches or screen cracks.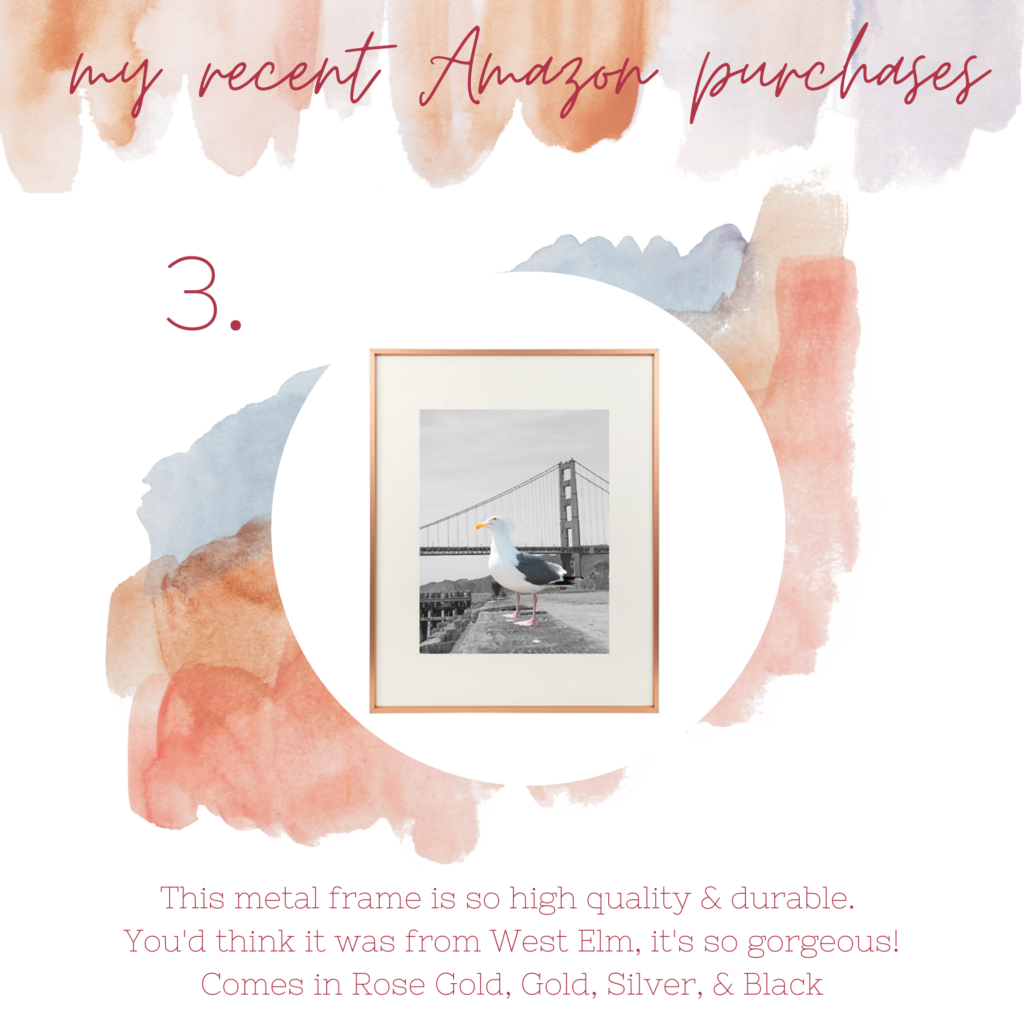 So I picked up this frame to hang a print I bought over quarantine which I LOVE (I got the 100 New Yorkers print by Mona Chalabi). I knew I wanted something that was heavy duty, so when I found this rose gold aluminum frame for under $40, I immediately pressed "add to cart." This frame is honestly so high-end looking and feeling, you'd think I bought it from West Elm or something. It's heavy, durable, and it looks so classy on the wall. Below is a picture of how it looks. Note: the white border below is part of the print in the frame, not part of the frame itself. Though the frame did come with an ivory border that I took out!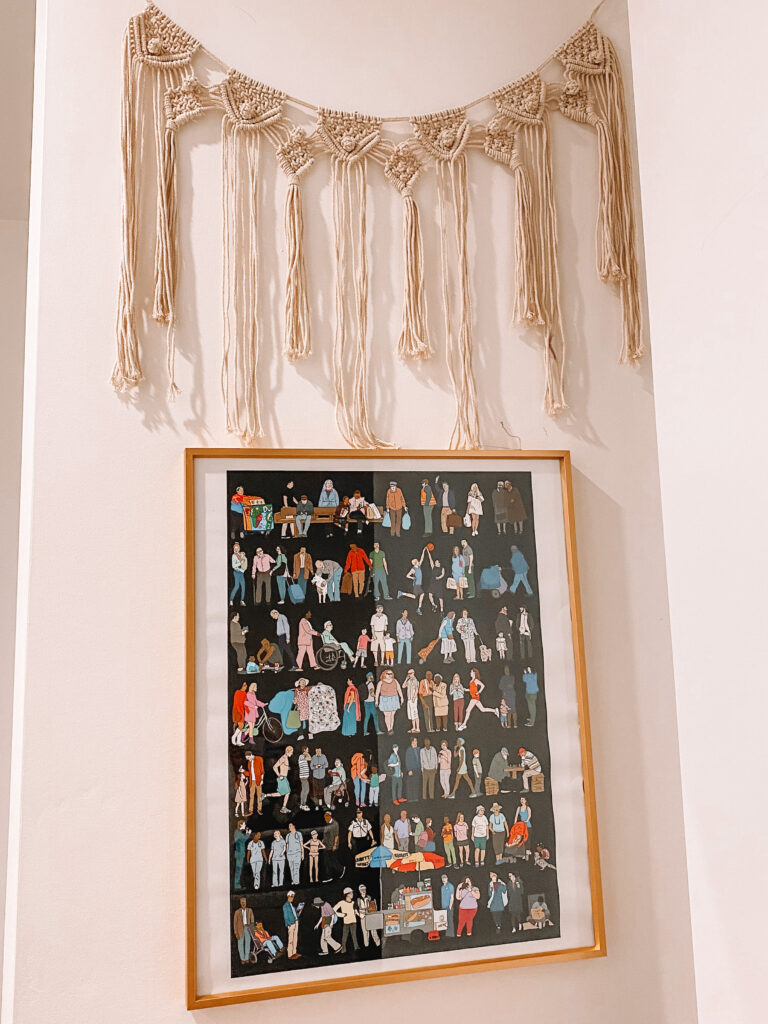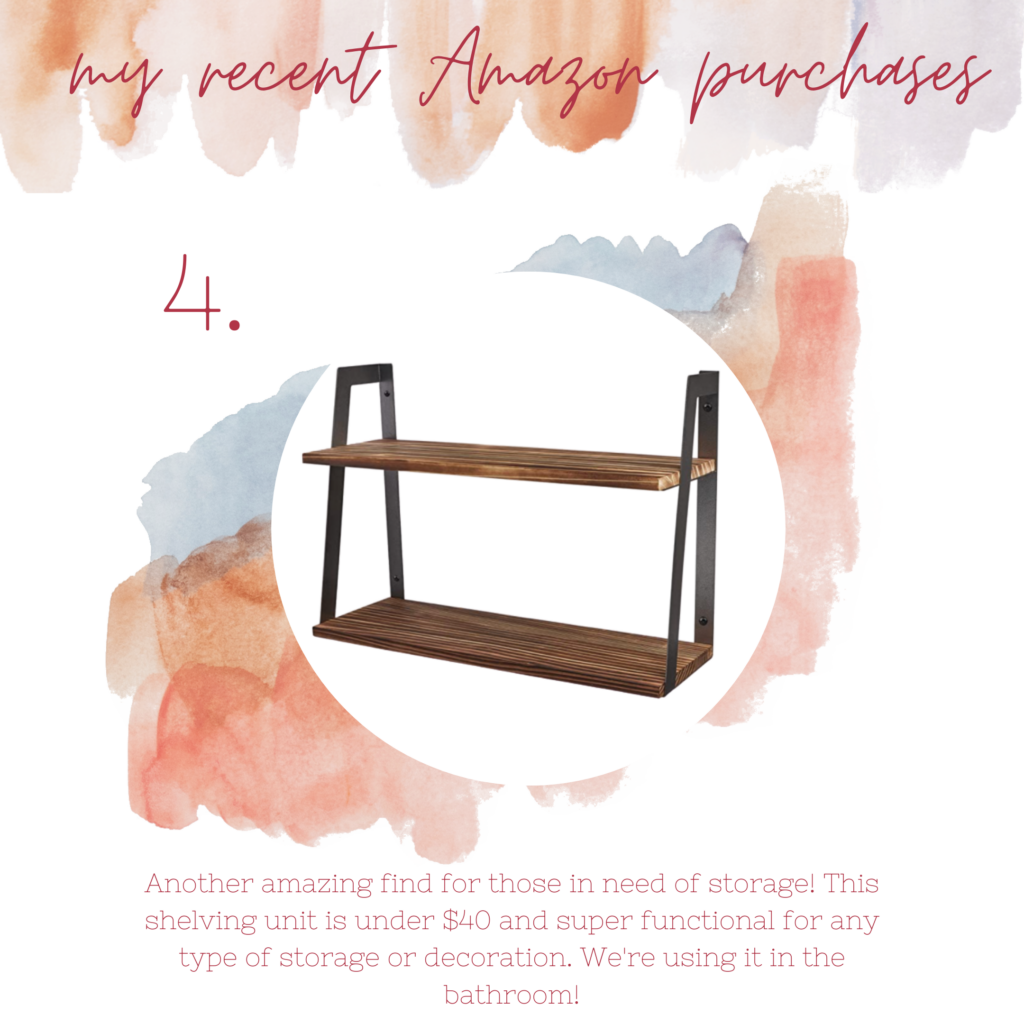 This purchase is again connected to having no storage in our NYC apartment! We needed somewhere to store our towels and some other bathroom goods (namely my skincare/haircare products) so I searched on Pinterest for some small space storage solutions, and floating shelves popped up! I loved the rustic style of this one and that it was under $40. It also comes in matte black and white.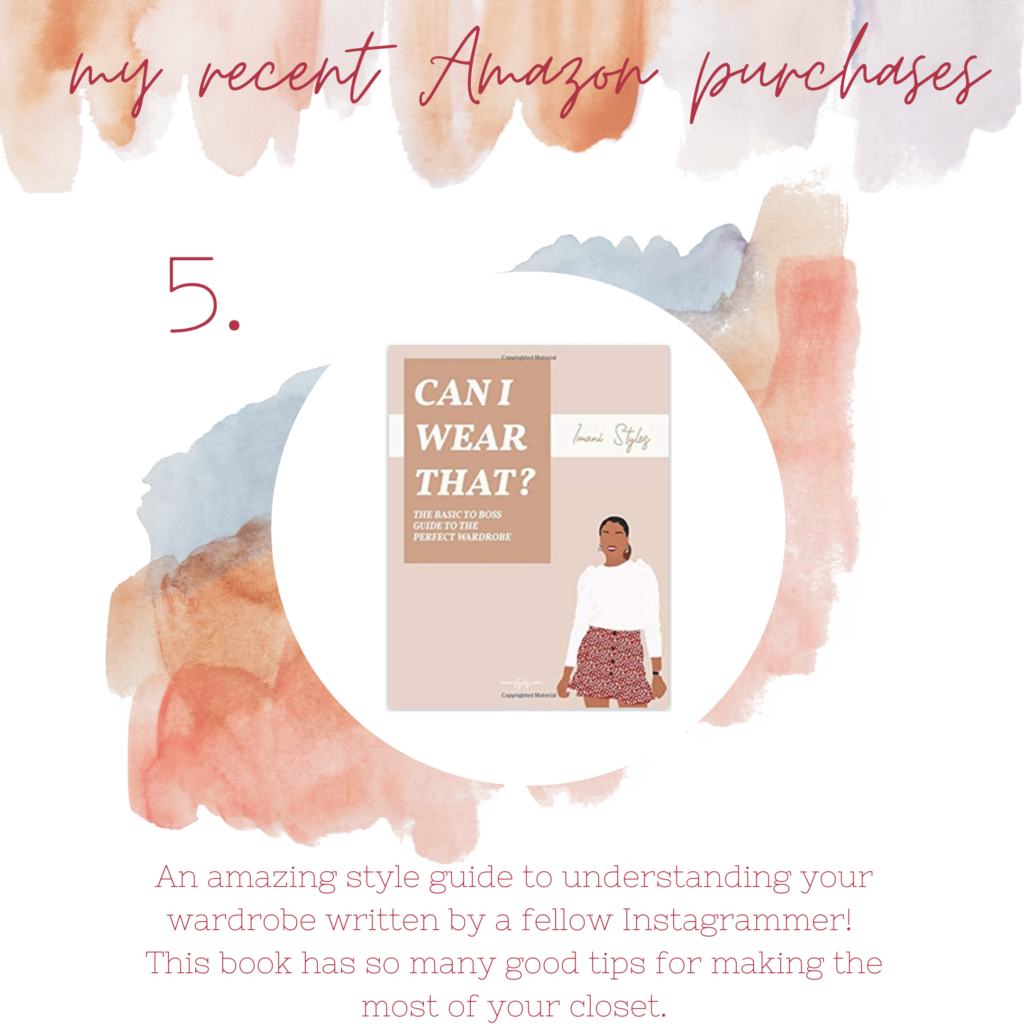 I saw this book while scrolling through Instagram one day and admittedly, impulse bought it. I read the brief and realized it was written by a fashion blogger on Instagram so I thought, even better–I'll support a fellow content creator! In the book, Styles does a great job curating guides and activities to assess your wardrobe's functionality as well as suggest styles to fit your body type.
As much as I think I know about fashion & style, this book was a great eye-opener if you love the ins and outs of fashion! I especially liked the section about creating a capsule wardrobe and eliminating impulse trendy buys (because I am DEFINITELY an offender of making those kinds of purchases!)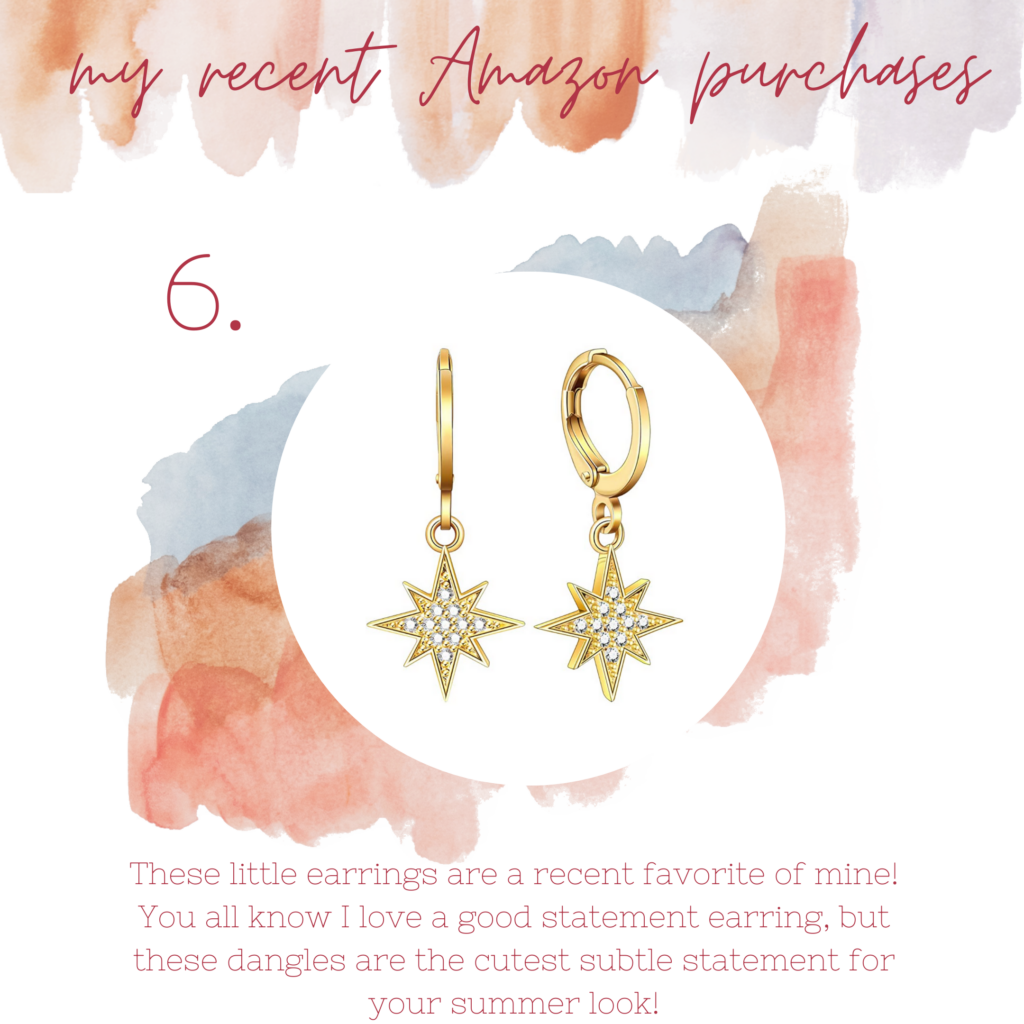 You all know I love a good statement earring–I've never shied away from going bold & big on jewelry! But I was influenced by my one of my favorite bloggers, @thebelleofthebudget on Instagram, into trying out these small little dangles! I love the star design and the price (just $10!) and think they are such a good subtle statement for summer. They also come in a bunch of other designs like butterflies, hearts, evil eyes, lightning, and moons. I think I might have to grab a couple other designs myself!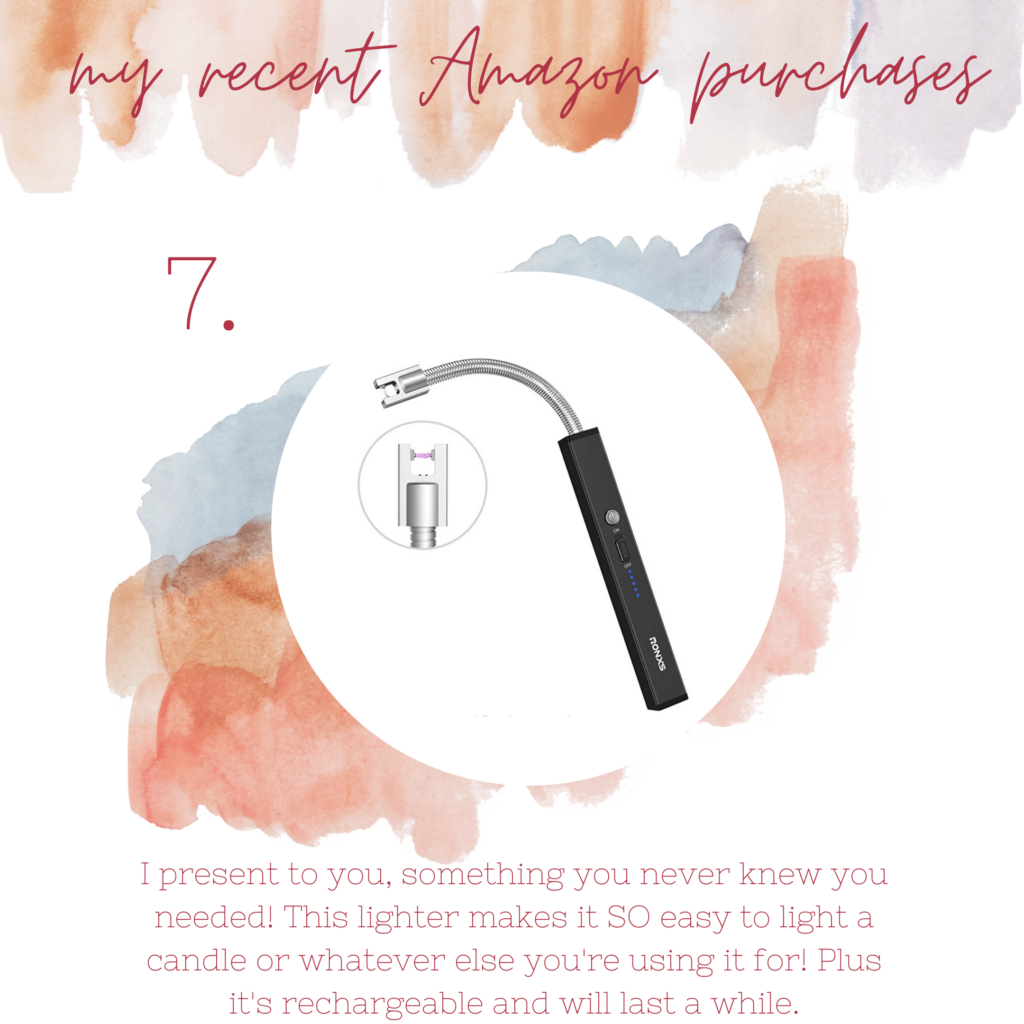 Ok, this is officially the most unnecessary yet necessary purchase you will make from Amazon. This is a #TikTokMadeMeDoIt Purchase, but I don't regret it one bit. This lighter is electric & rechargeable–making it sustainable because you can use it over & over instead of getting a new one! It has a bendable neck so it can fit whatever candle you are trying to light. I have been using it almost daily to light my candles because it's so easy to use and doesn't scare me like normal lighters . . . am I the only one scared by lighters? Yes? Okay, I thought so.
There are my recent Amazon purchases! I hope you enjoyed and if you end up shopping any of my picks, be sure to comment here or tag me on Instagram to let me know, I love seeing your thoughts/reviews! You can shop this post either through the image at the top of the post or through the Shop the Post option below!
Have a great weekend everyone!
Yours Truly,
Erin
SHOP THE POST