I want to preface this blog post by naming that this is my FIRST time shopping the Nordstrom Anniversary Sale!
I have spent a few years now sitting back, watching other bloggers film try-ons and talk about their purchases, but it never felt like the right time for me to shop or I didn't feel like I truly needed anything from the sale. That being said, this blog post is NOT a be-all, end-all shopping guide where if you don't purchase everything (or anything) on the list, you'll be out of style for fall. In fact, I'm probably a big proponent for not shopping the sale unless you find pieces that you love and will wear over and over again.
All of the items I've picked are under $100 and are pieces that will transfer from year to year, or season to season. It seems to me that if you're spending a good amount of money in clothes, they should be investment pieces that you get good use out of.
Lastly, I want to be completely transparent and say that every piece in my guide is currently sitting in my Wish List on Nordstrom, waiting for me to be able to checkout on the 13th. I would never show items that I was not personally planning on buying (AND KEEPING) myself. That does not mean that I might not have to return a few items–hellooo no changing rooms! But I did want to clarify that I'm not shopping to try things on for a photo and then return them right away.
Now that I've talked your ear off, let's get into the finds!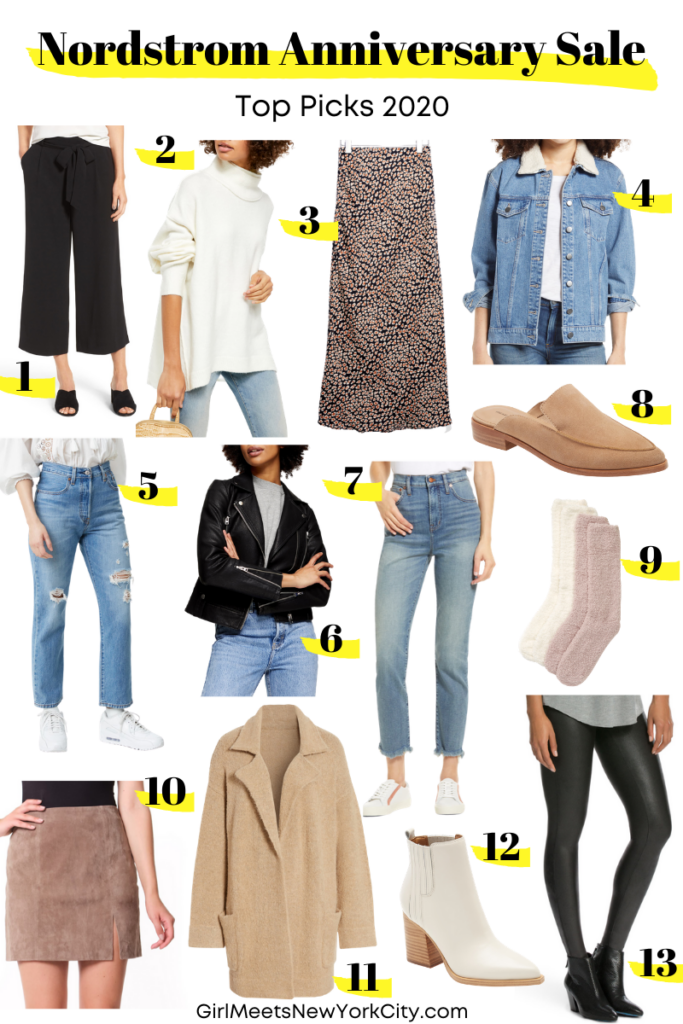 (Sale Price: $39.90, Price after sale: $69.00)
These pants are on the top of my list because they are perfect for workwear. I previously had a pair of black paperbag pants from Kohl's that I recently donated due to wear, so I think these will be the perfect replacement that will hopefully last me a while!
(Sale Price: $84.90, Price after sale: $128.00)
This top is the perfect staple for fall & winter looks. I love a mock neck because I think it's so simple, yet so classy. This sweater also comes in Sky & Lilac. Currently, the Ivory color is sold out, but I am crossing my fingers for a restock before Public Access!
(Sale Price: $49.90, Price after sale: $78.00)
I am a firm believer that a slip skirt is a staple for every woman's closet! It doesn't always need to be a printed skirt, but I think this bold combo print makes a great statement for fall but also into winter! Pair this skirt with a turtleneck sweater, a basic white tee, or a lace cami and you have three completely different looks. It's a versatile piece that can be worn again and again using different items already in your closet!
(Sale Price: $40.90, Price after sale: $69.00)
A denim jacket is unanimously a closet necessity. It can be dressed up or down for any season, occasion, or style. I love this jacket in particular because of the faux sterling collar! The collar allows the jacket to become 2 jackets in one. Use the collar for a cozy winter or fall look, or take the collar off for a basic denim jacket. Plus, coming in at under $50, it's a steal!
(Sale Price: $63.90, Price after sale: $98.00)
My Levi's are the comfiest jeans I own, so I know that these straight leg basic jeans will not disappoint! I love these jeans because the rips are not overwhelming and still give a sophisticated denim look. They are non-stretch denim, so reviews recommend sizing up!
(Sale Price: $49.90, Price after sale: $88.00)
Another staple, every closet needs a leather jacket. This classic style can be worn in SO many different ways–which I can assume I probably don't need to tell you–and might just be the most worn item in your closet year-round! I haven't had a staple leather jacket in my closet probably since high school, so I'm excited to add this one to my wardrobe! For Topshop's quality, under $50 is a great price for a long-term investment piece. It also comes in white!
(Sale Price: $84.90, Price after sale: $128.00)
I'll be the first to say that I am not one for expensive jeans (especially not ones over $100), however, I own a few Madewell pieces and I LOVE the quality. I've only heard good reviews about their jeans too, so I think these will be worth the investment for the amount of wear I will get out of them.
(Sale Price: $49.90, Price after sale: $89.95)
I don't think there is a more classic fall style than a good brown mule! Maybe a knee-high boot, but I digress. I love wearing mules in the fall for their comfort but also because of how effortlessly chic they look! I own two other pairs of mules from Target in black and maroon, so I'm excited to see how the cushioning and design of the Treasure & Bond compare.
(Sale Price: $19.90, Price after sale: $30.00)
I'm pretty sure every blogger on Instagram has raved about Barefoot Dreams in the past, but I have never bought into the hype. Tbh, the prices just seemed too expensive for a blanket! I thought the best way to try the magical fabric of Barefoot Dreams would be through their socks (because who doesn't love a good pair of fuzzy socks?) Unfortunately, both color options are currently sold out, but I am hoping for a restock soon!
(Sale Price: $19.90, Price after sale: $30.00)
Another Pinterest-inspired, fall fan favorite is a classic suede skirt. This is another piece I can say I have never purchased for my wardrobe in the past, but I think this year is the time to take the leap! I love the slit on the side and think this skirt will carry me straight into winter with its classic charm.
(Sale Price: $44.90, Price after sale: $85.00)
Ok this might be cheating . . . this cardigan coat was one of my absolute favorite finds from the N Sale this year, but it sold out so quickly! I was able to find it on the Thread & Supply website still available in all sizes so I'm going to link it here, even though it's not "technically" available on Nordstrom anymore. Shh! Also available in gray.
(Sale Price: $99.90, Price after sale: $189.95)
No doubt these booties are the most expensive item on my list, but personally, I think they're worth it! Every girl should have a staple bootie and truth be told, I don't have one right now. I've heard only great reviews about the Marc Fisher booties, plus I love the Ivory color. They also come in Black Leather, Black Snake Print, Cloud Suede, and Cognac Suede.
(Sale Price: $64.90, Price after sale: $98.00)
This one is hard to admit because I seriously have avoided faux leather like the plague–especially in leggings. However, after a few collective hours of scrolling and looking at outfits with the Spanx Faux Leather Leggings on Instagram and Pinterest . . . I am succumbing. Again, nothing but great reviews on these leggings, so I'm hopeful, but truth will come to light once they come in and I can try them on! All reviews say to size up one on these.
Are you shopping the #NSale this year? If you buy any of the items I've recommended, be sure to tag me on Instagram or leave a comment here! Love hearing your guys' thoughts!
Yours Truly,
Erin
SHOP THE POST