Animal print was HUGE when I was middle school and I remember telling myself I would never wear it.
Here we are, ten years later, writing a blog post about different ways to style it… oh how far we've come.
To be fair to myself, the quality of animal print in 2009 was nowhere near what is being produced now. I am now happy to welcome this trend in with open arms–because there are a lot of cute pieces!
As a teacher, when I'm creating a look, I know it has to serve multiple purposes. So I've curated styles that are professional for the workplace, versatile for any type of movement, and most importantly–cute & something you'd want to wear!
Look 1: Skirt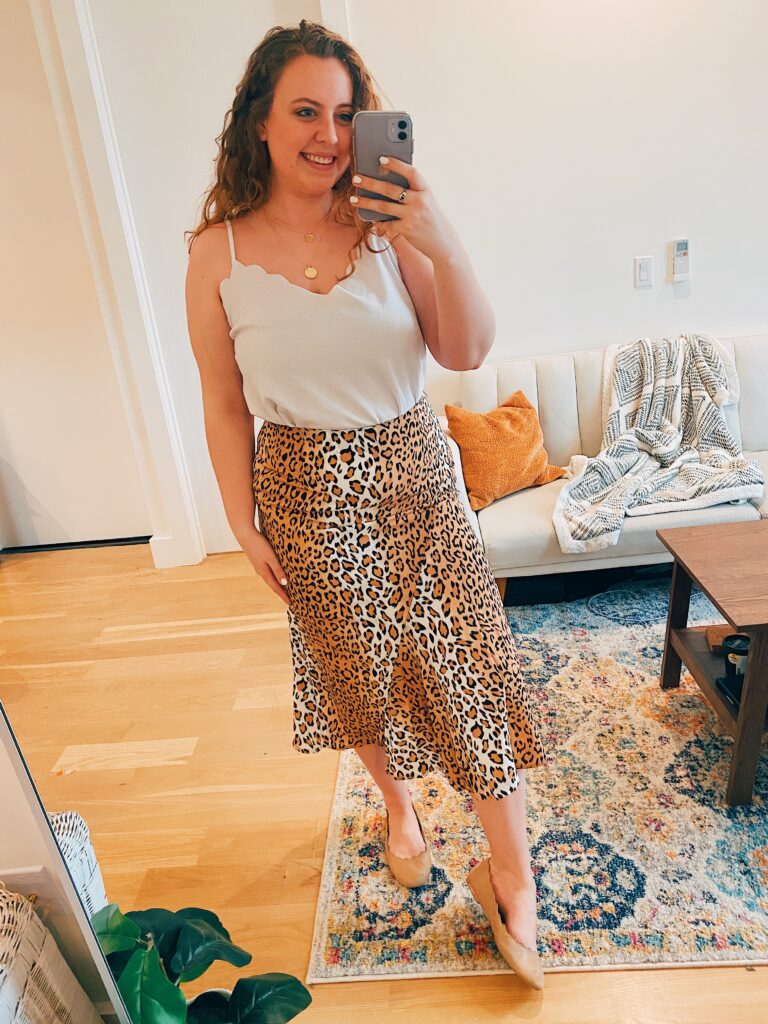 I love this look because it definitely leans towards the more professional side, but it's SO comfy! I'm wearing a Boohoo tank that is the softest material and a skirt from Shein that is so stretchy and easy to move in!
I did wear a nude strapless bra under the Boohoo top because the straps are thin and I didn't want any other straps to show, but the Shein skirt is completely lined, so you're free to wear anything underneath!
Wearing a L in the skirt and a M in the top! My shoes are Sam Edelman flats size 8! I accessorized with my Amber Sceats coin necklace from my FabFitFun spring box!
Look 2: Headband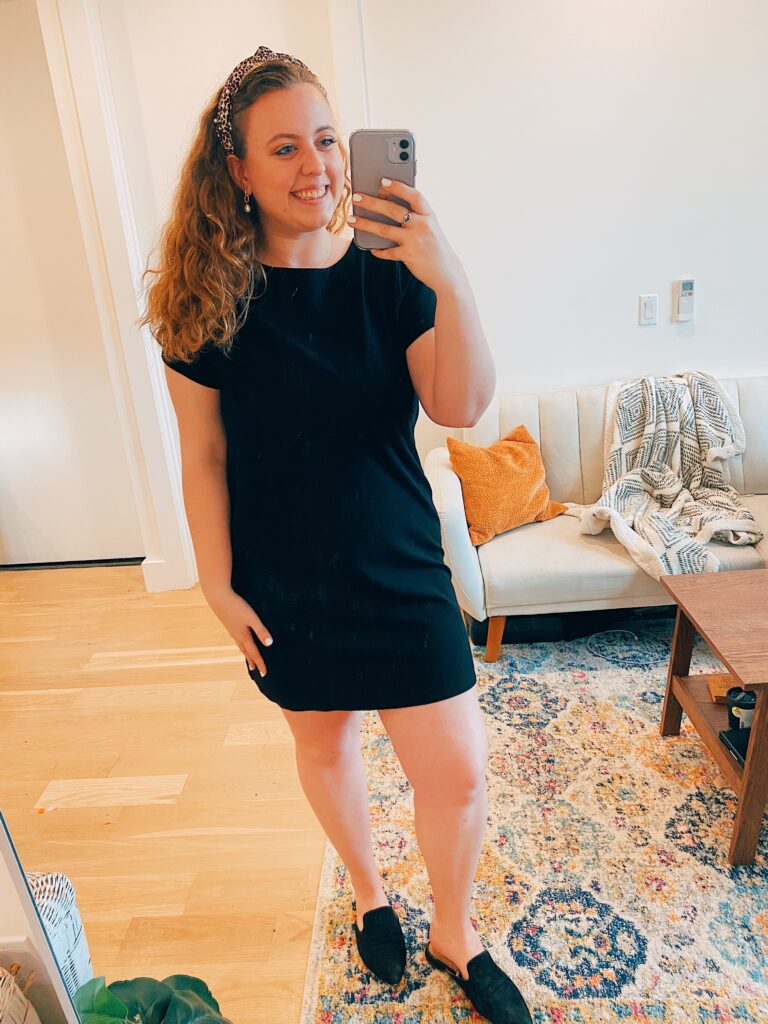 This look is for my girls who want a subtle pop of print. I'm wearing a simple black t-shirt dress with black mules, but my headband is leopard print with sewn-on pearls!
I love using animal print as the pop to a neutrals or basics outfit because it's effortless but can really amp up a normally bleh outfit!
My dress is Jude Connally in size L, mules in size 8, and I paired the look with dangly pearl earrings!
Look 3: Belt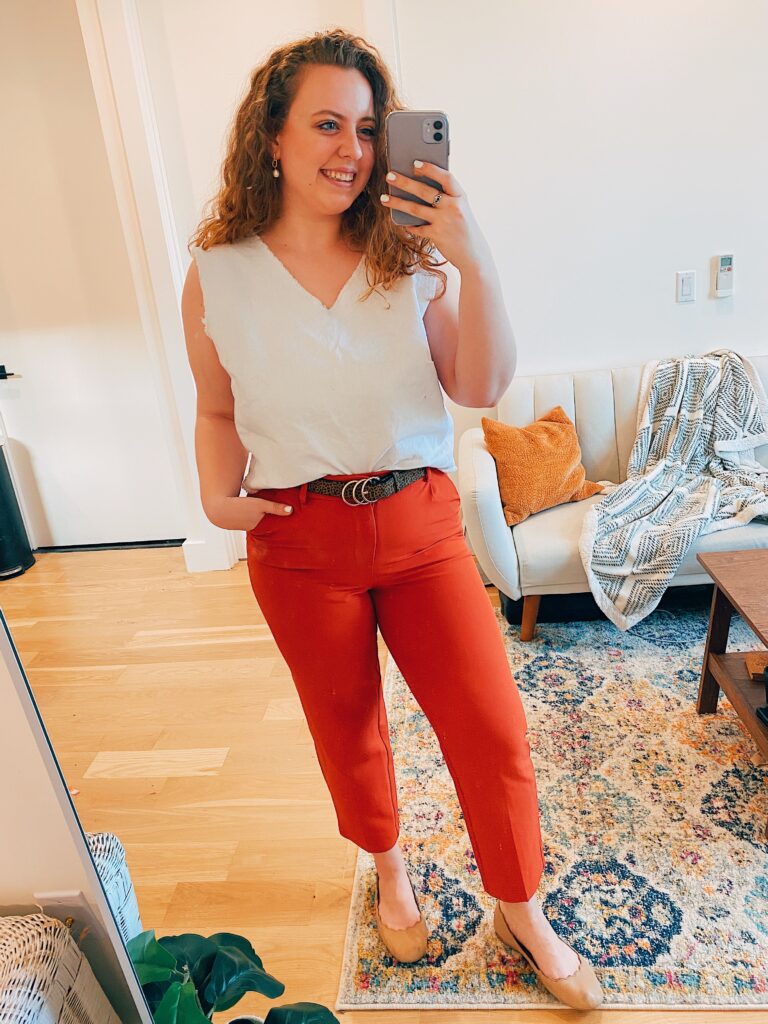 Similar to the headband, this look shows off print in a quieter way. At first glance, the belt is just brown, but up close it's this really fun animal print!
The best part about this look for me is that this belt was $5 at Primark! We love a trendy bargain. I paired the belt with some stretchy work slacks from Target in this super fun orange-red color! Although stretchy, I sized up in these pants to a 10 in order to make sure they were 100% work professional.
I'm again wearing my Sam Edelman flats (size 8), the top is thrifted, but originally from ASOS. It's size 14 which makes it VERY oversized–but I love the way it looks a little baggier! Again, I accessorized with pearl earrings.
Look 4: Dress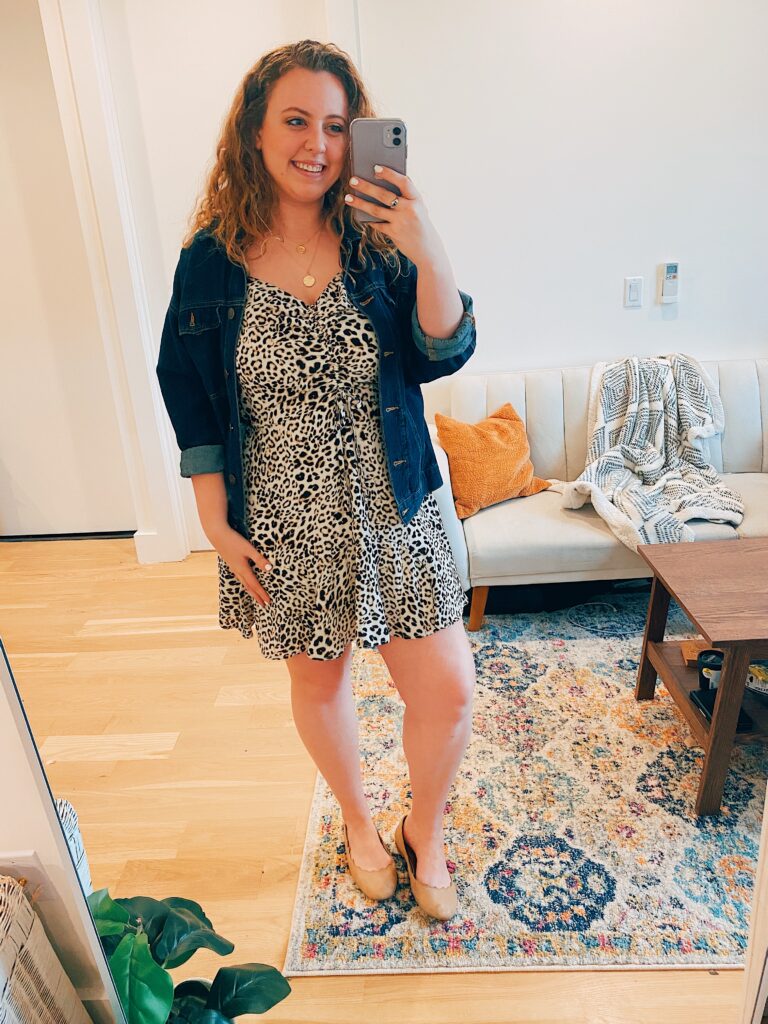 Last, but not least, we have a dress option! I love this look because it's bold and clearly shows off the print, but it's not overwhelming!
This look is workplace approved because of the high-neck and versatility of the dress! It's easy to move in and long enough that if you need to bend over, you're not showing anything. I threw a denim jacket overtop because the straps are thin, and you're always better safe than sorry!
My dress is from Francesca's and I'm wearing an XL and my jacket is Forever 21 in size S (although it is VERY oversized, so I sized down 2 sizes). Again, rocking my Sam Edelman flats (size 8) and wearing an Amber Sceats coin necklace I got in my spring FabFitFun box!
Which look was your fave? How do you style animal print? Let me know in the comments!

Yours Truly,
Erin
Shop the Post: